_English_
Ju-Yuan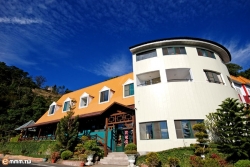 Ju-Yuan

Ju-Yuan is situated at Shengheng Temple of Miaoli County's Dahu Township at an altitude of 800m. Surrounded by majestic and serene mountainscapes with distinct seasonal climates, Ju-Yuan possesses the best sceneries of Dahu with its morning sunrise, rosy cloud at dusk, sea of cloud and mountain maples as well as delicious Dahu strawberries and citrus mandarin oranges harvested in autumn!

The origin of the name "Ju-Yuan" and the motives behind opening a restaurant in Jiangmayuan of Miaoli County's Dahu Township as many people might ask are for two reasons: one is so that everyone can enjoy the beautiful sceneries of Miaoli County's Dahu Township and the other a fulfillment of my mother's wish in opening a restaurant in Dahu Township's Jiangmayuan so visitors may also enjoy the majestic and beautiful sceneries Ju-Yuan has to offer. In addition, because my mother's name also incorporates the word "Ju", thus Ju-Yuan is also a realization of her life-time wish. Adjacent to Ju-Yuan  is "130 Restaurant"with its façade built in the likeness to that of a traditional Hakka building. 130 Restaurant interior is decorated with reminiscing artifacts from the early Republican Period to serve as an alternative choice for the visitors who wish to try traditional Hakka pestle tea ("Leicha") or high mountain tea or coffee.

With comfortable and clean rooms, Ju-Yuan is the best choice for accommodation whenever you visit Miaoli County's Dahu Township. Our restaurant here at Ju-Yuan offers Hakka delicacies as well as Dahu's seasonal meals to provide our visitors with hearty and delicious fruit feast. In addition, we also offer many indoor and outdoor activities such as making glutinous rice balls or firefly-watching or Chuguan Historic Trail trekking.

Our fruit orchard is open all year-round and visitors are welcome to come fruit-picking. In addition to our B&B accommodation and tasty Hakka cuisines, we also offer spaces for B.B.Q and drinking tea...etc. Fruits are exclusively produced and sold here at the orchard and our visitors can enjoy our freshest and tastiest persistence.
Room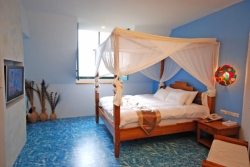 A Taste of Bali

◈Maisonette cabin for 6
◈Penthouse Scenic Suite for 4
◈Scenic Room for 4
◈Scenic Suite for 2
◈General Suite

Oriental Zen (東方禪風) -- Room for 4
Room facilities include: A/C, TV and bathroom accessories. Guests with notebook are free to access the internet as all of our rooms are equipped with wireless network. Room charge is $7,000NTD per night during Chinese New Year holiday. Please click on "Guest Rooms" for more pictures.
A Taste of Bali (峇里風情) --Room for 2
House of Romance (浪漫滿屋) --Room for 2
Green Forest (綠光森林) --Room for 2
Southeast Asian Reminisce (南洋情懷) --Room for 4
Tender Garden (溫馨田園) -- Room for 4
Star-Lit Building (摘星樓)--Cabin for 6
Moon-Gaze Building (望月軒)--Cabin for 6
The Cloud House (牧雲居) --Cabin for 6
Hercules Beetle--Room for 4
Stagbeetle--Room for 4
Firefly--Room for 2
Leaf-Butterfly--Room for 2
Milkweed Butterfly--Room for 2

to stay rules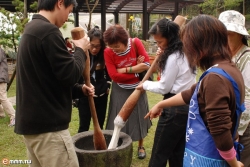 Hakka cuisines

No pets allowed.
Check-in: after 3:00PM; check-out: before 10:00AM next day.
Please notify us 3 days in advance in case of cancellation.
Failure to do so will result in inability to extend accommodation validity to 2 months with no deposit refund
In order to maintain good accommodation quality, please do not bring your pet(s) into the room.
In event of natural disaster such as typhoon or earthquake resulting in traffic inaccessibility, please call and notify us so we can extend your accommodation validity.
Guests with notebook are free to access the internet as all of our rooms are equipped with wireless network.
Our rooms are equipped with: A/C, TV, bathroom accessories, blow dryer and basic facilities.
A 50% room deposit must be made within 3 days after making room reservation with receipt or cash remittance faxed to us for confirmation.

@An additional $500NTD will be charged for additional bed.
' Please call us between hour 08:00~22:00 for room reservation
Please call: 037-951522 or 037-951765 for reservation
Fax: 037-951470※Cash remittance information:
Postal remittance account no.: 22444377
Account name: Liu, Tian-Jun (劉添俊) Transfer via ATM: Bank code-052-Standard Chartered Bank (Taiwan) Ltd.
Account no: 60210002971

Restaurant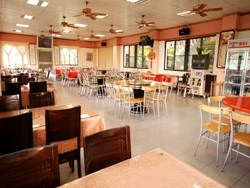 Restaurant

our accommodation fee is based on charge-per-head basis.
Ju-Yuan Hakka Village (菊園) is a leisure and scenic dining area where in addition to its beautiful sceneries, visitors may further enrich their leisure travel experience while enjoying our Hakka pestle tea and Hakka delicacies made from rice as well as various fun-filled activities such as traditional Hakka glutinous rice ball making and bamboo craft DIY...etc.

Auxiliary facilities: Conference Room: can accommodate up to 100 guests; children's playground; and a restaurant where delicious Hakka cuisines, fresh and tasty free-ranch chicken and seasonal fruit meals are served.

Set Course Price       No. of dishes       Suitable for
$2000 NTD         7 courses and soup     7~10 People
$2500 NTD         8 courses and soup     10 People
$3000 NTD         9 courses and soup     10 People
$$600 NTD         3 courses and soup     2~3 People
$1000 NTD         5 courses and soup     3~5 People
$1500 NTD         6 courses and soup     5~6 People

The above set courses are mainly Hakka dishes! For detail please click on "Recommended Menu and Specialty Food and Beverage" at the left screen.

traffic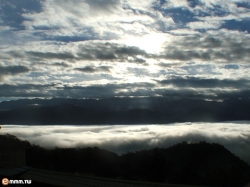 a sea of clouds

※Route 1: Take National Freeway No.1 and exit Gongguan System→ Drive all the way down Expressway No.72→Turn right to Tai-3 Highway→ Turn right when reach the 138.6km mark (Miao-130 Highway) → Proceed until you reach Ju-Yuan Hakka Village (菊園).

※Route 2: From National Freeway No.1 turn onto National Freeway No.4 and exit Dongshi→ Continue driving down Tai-3 Highway→ Drive-by Dongshi and Jhuolan to Dahu Township→ Turn left at Bafen and onto Maiao-56 Highway located next to Fusing Productive Road→Ju-Yuan Hakka Village (菊園).

※Route 3: Take National Freeway No.1 and exit Sanyi System→ Head towards Sanyi Downtown→ After passing 2 overpasses, turn right at the first intersection (to the left of the intersection is a shop selling brown sugar ice)→Connect to Miao-130 County Highway→ Jiangmayuan→26.8km mark→Ju-Yuan Hakka Village (菊園)

※For updated road conditions and local travel information please contact Miaoli County Dahu Branch Police Station: 037-991006

Menu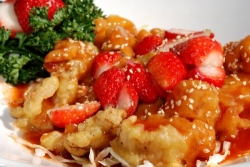 Shrimp balls served with strawberries

Shrimp balls served with strawberries
Strawberry sausage
Sweet and sour fish
Stir-fried pork fillet with strawberry
Beef sparerib served with strawberry sauce
Strawberry sausage
Sautéed bamboo shoot
Boiled free-ranch chicken
Hakka style sautéed pork and squid with dried turnip and garlic
Steamed pork belly with preserved mustard leaves
Hakka cured pork
Stir-fried intestine with shredded ginger and rice vinegar
Stir-fried wild boar meat
Hakka-style tofu
Sautéed tofu with basil
Korean-style kimchi beef
Stir-fried beef
Hakka taro cake
Sautéed free-ranch chicken with basil
Sautéed eggplant with basil
Fried tofu with salty egg
Fried egg with turnip
Fried egg with basil
Spicy intestine and pork blood
Stir-fried bitter gourd with salty egg
Hakka cured pork
Stir-fried bitter gourd with fish
Deep-fried freshwater shrimp
Deep-fired freshwater minnow
Sweet and sour freshwater minnow
Deep-fried bee larvae
Deep-fried squid mouth
Steamed trout
Trout seasoned with salt and pepper
Deep-fried intestine seasoned with salt and pepper
Sautéed nest fern
Sautéed seasonal vegetables
Sautéed wild herbs
Vegetable fern salad
Sautéed white water snowflake
Preserved cabbage soup
Hakka-style preserved vegetable soup
Chicken with preserved radish soup
Chicken with preserved radish soup (1/2 chicken)
Chicken soup with mushroom
Chicken soup with mushroom (1/2 chicken)
3 dishes with soup (suitable for 2-3 people)
5 dishes with soup (suitable for 3-5 people)
6 dishes with soup (suitable for 6-8 people)
7 dishes with soup (suitable for 8-10 people)
8 dishes with soup (suitable for 10 people)
9 dishes with soup